Explore BGC in a truly cosmopolitan fashion through this Bonifacio Global City Map, a no-nonsense commuting guide for you.
Navigate your way throughout BGC easily
Visiting BGC has never been this easy when you know how and what to find in a Bonifacio Global City Map! BGC map is a wonderful tool that guides and orients us on the place, people and the things that we'll mostly encounter. Fret not! BGC map is a comprehensive map enough for you to easily understand it.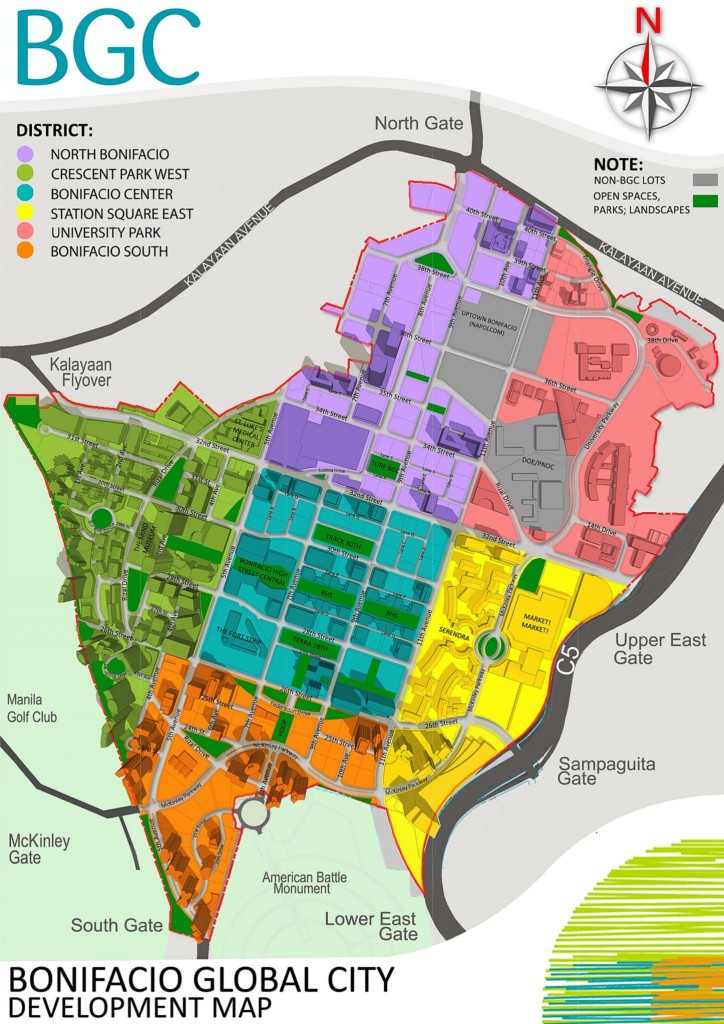 Generally, what you will see in the Bonifacio Global City district are developed residential condominiums, schools (British School Manila, Manila Japanese School, etc.) as well as a hospital (St. Luke's Medical Center). Aside from the tall buildings that you will most likely see, you will also enjoy shopping in hi-end retail shops, dine at the world-class restaurants, and be entertained by various events.
A great way to enjoy these activities is to know what and where to find these. Below are the places in the Bonifacio Global City that you should not miss to visit.
1. Market! Market!
– is one of the earliest landmarks in the area which was developed by Ayala Land. Market! Market! also caters the needs of shoppers of all classes. The place also has its own transport terminal, which serves as a hub for jeepneys, buses and FX cabs with routes leading to their respective destinations around Metro Manila.
2. Serendra
– is an upscale residential area. You will enjoy dining at world-class restaurants with different cuisines and grandeur that gives everyone a good and pleasant ambiance.
3. Bonifacio High Street
– is a place where you get to enjoy shopping at trendy retail outlets as well as having a casual dining at the bars and restaurants.
4. Upscale residential condominiums
– such as Essensa, Pacific Plaza, Bonifacio Ridge, and Regent Parkway.
5. Commercial buildings
– such as Net One and Bonifacio Technology Center, as well as HSBC and Deutsche Bank offices.
6. St. Luke's Medical Center
– which has state-of-the-art equipment and hundreds of hospital rooms and beds.
7. Bars and Restaurants
– like Encore, Prince of Jaipur, NBC Tent, Pier One, The Fort Square, The Fort Strip, and KarFort
8. International schools
– such as British School Manila, Manila Japanese School, International School Manila, as well as local pioneering schools like STI (Systems Technology Institute).
9. Coliseum and Convention Center, Shangri-La at the Fort and SM City Aura.
10. Manila American Cemetery and Memorial
– where graves of American soldiers in WWII were laid to rest.
11. S&R Shopping Center
– is a place where you can buy All-American goods.
12. Car showrooms
– Honda, Hyundai, Ford, Mini, BMW, and soon, Lexus
13. MC Home Depot
How to get there
Nearest Train Station: MRT-Guadalupe
Bus Route: Fort Bus
Jeepney Routes: Guadalupe-Fort; Pasay (PICC) Gil Puyat Avenue-Kalayaan Avenue-Fort
Commuting routes
From the north of Makati (Quezon City, Mandaluyong, Pasig, CaMaNaVa):
From EDSA, you have to ride a bus south bound to Baclaran or Ayala or take an MRT, and go down at Ayala and look for the jeepney terminal (under MRT station) and ride those that are bound for Market! Market!.
From the south (Pasay, Paranaque, Muntinlupa, Las Pinas):
From EDSA, you have to ride a bus north bound to Fairview or Monumento or take an MRT and go down at Ayala, cross EDSA using the MRT bridge and look for the bus terminal of The Fort buses (at the gate of Forbes across Shell Station) bound for Fort Bonifacio.
From the Makati area:
There are jeepneys in the Ayala terminal (under MRT station) that are bound for Market! Market!
From Manila/Caloocan area or near the LRT stations:
You have to take the Light Rail Transit (LRT) and go down at the EDSA-Taft Avenue station, use the footbridge that connects the LRT station to the MRT station and then ride an MRT going to Ayala and follow the directions stated above (for taking MRT).
From Taguig or Paranaque area:
You have to ride a jeepney going to Nichols in Taguig and ask to be dropped off the Gate 3 – where the jeepney terminal to The Fort is located. From Gate 3, there are jeepneys bound for Guadalupe, passing by The Fort.
With the use of CityLink buses and the electric tricyles, going around the Fort Bonifacio area is now easy.
For private vehicles:
The Fort Bonifacio is just along the south bound side of C5 between Kalayaan Avenue (in Makati) and the C5/Nichols Exit. The area can also be accessed through EDSA northbound using either Kalayaan Avenue, McKinley Road going to Forbes by the Ayala corner and/or C5 flyover coming from Buendia.
There are also available parking areas in most buildings in the Fort as well as paved open lot parking spaces.
Of course, you can ride a taxicab from any area around the metro and just mention "The Fort", "Fort Bonifacio", "Serendra", or "High Street" and the driver already knows where to go.